Our producing cows are organized by the groupings described in our breeding goals.
Butler Influence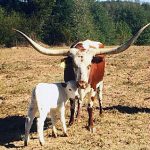 Miss Coach Reflection BW (TLBA #: C283355) is a 6 year old cow that is the product of 100% Butler breeding over the top and a dam who is 100% Butler over the top and Butler cross breeding on the bottom. She is a gentle cow who has proved to have great fertility.  Her latest TTT horn measurement is 68″.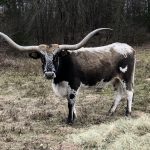 Southern Jolie 29 (TLBA #:C301811) is a 9 year old blue roan cow that flat out grabs attention.  She is predominantly Butler with a classic horn structure.
* Learn more about our Butler hybrid vigor outcross program goals.
Well Rounded Cows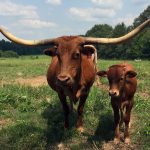 Charlotte Leigh (TLBA #: C243972 ) is an 11 year old cow that has been a consistent producer over the years.  Featuring a symetrical set of horns and a great utter, we look to add to her "great mom" characteristics through focused breeding.  She is currently bred to Saddlehorn.
* Learn more about our focus on well rounded cows.
Horns & Color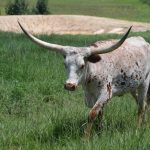 Silver Harriet (TLBA #: CI293942) is a 3 year old heifer that is the daughter of the gigantic RM Super Mac (Red McCombs / Twining Partnership).  She is a beautiful young heifer featuring great genetics and is a solid addition to our herd.  She is currently bred to CV Call of Duty (Silver T Ranch).  Her TTT measurement is 53.5″.
Horchata SS   (TLBA #: CI305024) is a 10 month old heifer we bought specifically for this part of our program.  As a daughter of Over the Top, she provides a set of base genetics we intend to build upon once she becomes of breeding age.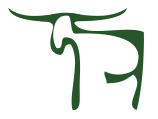 * Learn more about our big horns and flashy color goals.