Our producing cows are organized by the groupings described in our breeding goals.
Butler Influence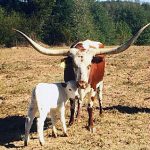 Miss Coach Reflection BW (TLBA #: C283355) is a 6 year old cow that is the product of 100% Butler breeding over the top and a dam who is 100% Butler over the top and Butler cross breeding on the bottom. She is a gentle cow who has proved to have great fertility.  Her latest TTT horn measurement is 68″.  She is currently bred to RC Tsunami 2.
* Learn more about our Butler hybrid vigor outcross program goals.
Well Rounded Cows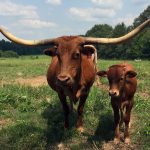 Charlotte Leigh (TLBA #: C243972 ) is an 11 year old cow that has been a consistent producer over the years.  Featuring a symetrical set of horns and a great utter, we look to add to her "great mom" characteristics through focused breeding.  She is currently bred back (AI) to Saddlehorn after producing a Saddlehorn heifer calf this year.
* Learn more about our focus on well rounded cows.
Horns & Color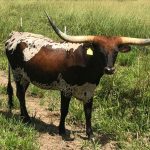 Jungle Orchid (TLBA# CI300563) is a 3 year old daughter of Bwana Chex who features that classic "redhead" longhorn coloring.   She's gentle and graceful as interacts with both humans and the herd.  She's currently bred to Swagger BCB.  Our big question with her is who to AI her to next?  We are thinking GL Painted Savage. . .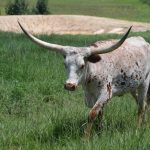 Silver Harriet (TLBA #: CI293942) is a 3 year old heifer that is the daughter of the gigantic RM Super Mac (Red McCombs / Twining Partnership).  She is a beautiful young heifer featuring great genetics and is a solid addition to our herd.  She recently calved a CV Call of Duty (Silver T Ranch) heifer.  She is currently bred to RC Tsunami 2.
Horchata SS   (TLBA #: CI305024) is a 18 month old heifer we bought specifically for this part of our program.  As a daughter of Over the Top, she provides a set of base genetics we intend to build upon.  She is currently bred to RC Tsunami 2.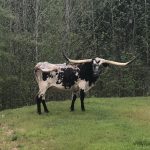 K.C. Jubilee (TLBA #CI229728: ) is a 14 year old cow who we acquired from John & Rebecca Wampler.  Her progeny includes some absolutely stunning black & white, flat symmetrical horn cows.   She recently calved a Rowdy HR bull calf whom we are keeping an eye on.  We'll breed her back AI heifer sexed to Rowdy HR this fall.
* Learn more about our big horns and flashy color goals.