The Sandlin location features 62 acres of mixed piney woods and pasture that sits on Lake Bob Sandlin. Its history is tied to a single family who lived there in the early to mid 1900's. A defunct county road, a medium depth well, and original cattle guards can still be located on the property. The Sandlin location is considered our headquarters.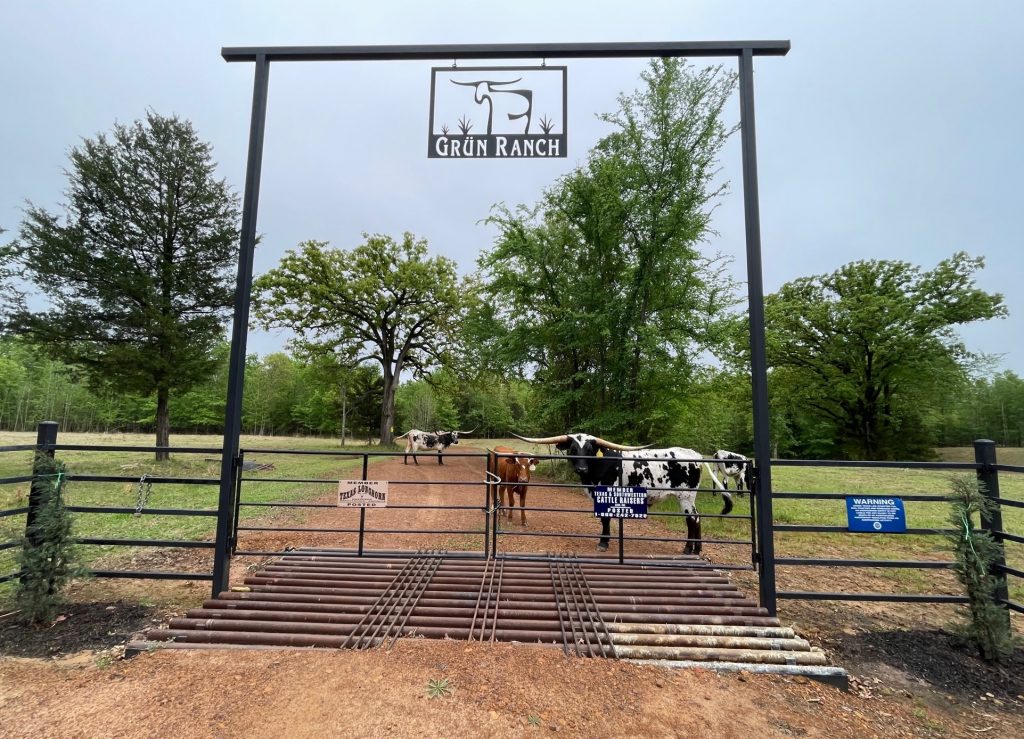 The Transformations
Historically a narrow tract of woods, the Sandlin property has undergone two significant transformations.
Around 2015 a commercial developer improved the property by building a 4,000 foot iron ore road from the county road to the lakefront. The road was carefully designed to wind through the woods preserving key features in the land. A large pond was also built and stocked with large mouth bass.
In 2020, we came along with the vision of converting the property to a livable, working ranch. Additional work included clearing exterior fence rows and creating a series of 1-3 acre pastures tucked into the woods throughout the property. Two home sites, a barn site, and coral areas were also cleared. An additional pond was added in the process.
The Pastures
The Sandlin location consists of a single 55 acre land tract that has approximately 22 acres of pasture and 33 acres of forest and ponds. The pastures consist of 1-3 acre clearings in the woods throughout the property that layout almost like a golf course. The woods are rich with native grasses and other forage desired by Texas Longhorn cattle.
The Ponds
The property has two ponds that are stocked with fish and serve as water sources for both cattle and deer native to the area.
The Lakefront
The ranch has 1450 feet of lakefront on Bob Sandlin. Located on one of the large Southwestern forks in the lake, the property experiences a consistent southern breeze for the majority of the summer months.
Wildlife
Land and vegetation in Franklin County varies. Our Sandlin location is composed of 100% sandy loam soil. The result is a wide variety of grasses, evergreens, and hardwoods thrive in the area. Combine this with the lake front and the result is an abundance of wildlife. From land tortoise and red foxes to deer and predatory birds, a drive down the 4,000 foot iron ore road of our property always yields fun surprises.